RDA Dressage Results from April 6th
---
RDA DRESSAGE COMPETITION  – held on Friday 6th  April
The Spring dressage competition hosted by Avon RDA group was delayed to the Easter holidays for the first time this year (from February half term). This allowed everyone more time to practice and prepare for the tests, and it showed! We were blessed with dry weather, after a unpredictable week – that certainly helped.
There were 40 entries from 6 groups in the region – Avon, Lyncombe Lodge, Minchinhampton, Saxon, Wellow and Forest. And 5 classes; starting with a walk, led test and finishing with a canter test. A full day of competition, fuelled by plenty of cake and hot food!
Many of the riders had set themselves a challenge to compete with a different horse or pony, or ride independently when they had been supported by a leader previously and for some riders this event was their first RDA dressage competition. There were plenty of rider nerves beforehand, but a great deal of satisfaction with a job well done after tests were ridden, especially when the results and test sheets were awarded after each class. The benefits of competing in a friendly, supportive environment were clear on the faces of riders, coaches, friends and family.
All 3 judges commented that ridden accuracy was particularly good. Clearly, riders – and coaches – had been working hard to pick up these extra marks. Well done everyone!
Class 1
Class 2 
Class 3
Class 4 (Junior)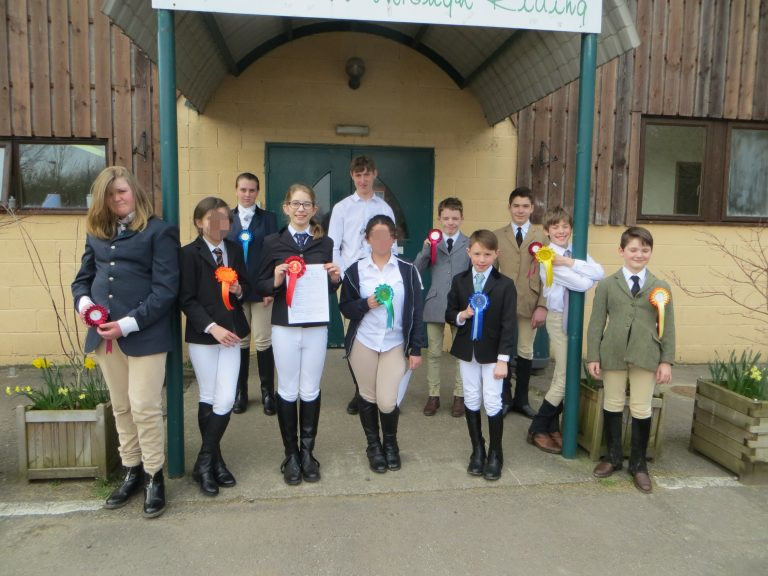 1st Neve; 2nd Ewan; 3rd Huxley; 4th Lauren; 5th Matilda; 6th Tom
Class 4 (Senior)
Class 5