Current Vacancies:
We're looking for passionate, engaged individuals to join our close-knit team, at our beautiful 100 acre site on the outskirts of the city.
Operations Manager
A supportive manager of people, as our Ops Manager you will need to engage with multiple stakeholders: staff, volunteers, beneficiaries, carers, customers and trustees. You will need to have attention to detail without taking your eyes off the big picture. You'll need drive, willingness to learn, patience and be happy to "muck in" (and indeed occasionally to "muck out").
Send initial enquiries to trustees@avonridingcentre.org.uk

Fundraiser:
You will be enthusiastic, buzzing with ideas and with the energy to see them through and to carry others along with you. A great communicator of ideas and stories and a supreme networker, you will be a passionate advocate of our services. You'll be organised, and able to winkle out the facts and figures needed to campaign on our behalf to corporates, foundations and the community.
Send initial enquiries to trustees@avonridingcentre.org.uk
Part Time Evening Groom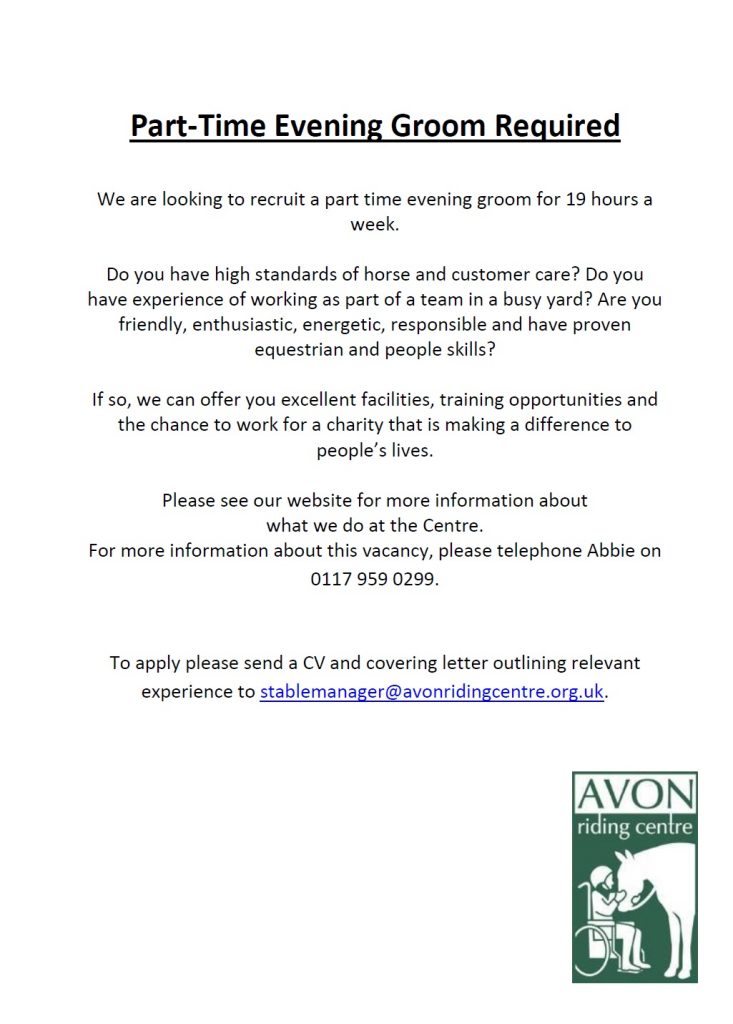 BHS AI/UKCC Level 2 Qualified Instructors Required
We are looking for more BHS AI/UKCC Level 2 Qualified riding instructors to join our bank of freelance instructors.
You should be experienced in teaching riders at all levels, reliable, friendly with a positive 'coaching' approach to lessons.
If you would be interested in joining our team, please send a copy of your CV to Yvette Whiffen at centremanager@avonridingcentre.org.uk or call 0117 9590266.
Work Experience for Veterinary Students
If you are an undergraduate or postgraduate veterinary student, looking for some hands-on experience with large animals, we can offer Work Experience opportunities. Unfortunately, we no longer offer Work Experience to under 18s.