RDA Dressage Day Friday 17th February 2017
---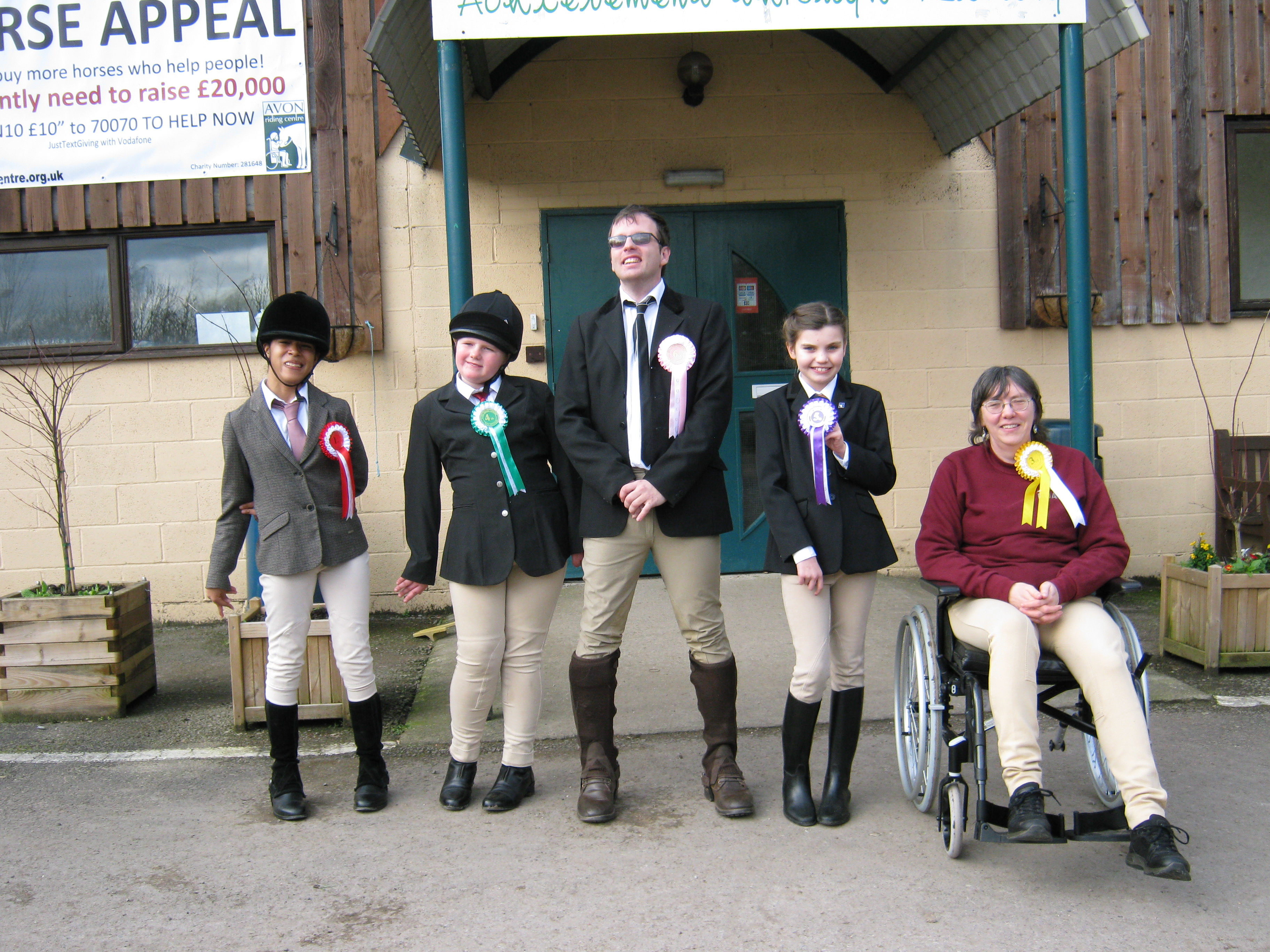 This was our first fun competition for a whole year due to our indoor arena being resurfaced in the October half term. Once again we were fortunate to have a lovely calm, reasonably warm and at times sunny day.
The day ran smoothly, thanks to all our volunteers who worked so hard in the organisation of this event. There were smiles on peoples' faces whether they were in first place or receiving a 'Well Done' rosette and it was really lovely to share the day with riders from some of the other RDA Groups from around our Region. It wouldn't be the same without you so thank you for making the journey to join in.
As always there were some riders who were disappointed not to be able to get a space in their chosen Class but we do have a limit on how many entries we can fit in on the day unfortunately. Better luck next time!
I would like to take this opportunity to praise the work of our stable staff led by Charmaine Lane who prepared our horses and ponies so beautifully. Congratulations also to all the other groups for their well turned out horses and ponies – not an easy job at this time of year!
We hope to see at least some of you in the Easter holidays when we plan to run our first RDA Show Jumping fun competition – more details to follow soon but meanwhile make a note in your diaries for Wednesday 19th April.
Here are the results in Class order:
Class 1 Grade 1 Intro Test (2017) – ridden on leading rein
1st Abigail Bailey riding Jim
2nd George Britton riding Oscar
3rd Alison Kerridge riding Bertie
4th Kacey Lownes riding Bunty
5th Kevin Hodges riding Marge
Class 1 Grade 1 Intro Test (2017) – unled
1st Tegan Vincent Cooke riding Bertie
2nd Kasia Laganavska riding Dolly (Wellow)
3rd Otter Baker riding Dolly (Wellow)
4th Alisha Craigie riding Bunty
5th Matilda Walsh riding Daymo
6th Cat Cucos riding Oscar
Class 2 Grade 2 Intro Test (2017) – ridden on leading rein
 1st Darren Ashton riding Caellyn (Saxon)
2nd Joshua Gittens riding Jet (Lyncombe Lodge)
3rd Kaye Jenkins riding Caellyn (Saxon)
4th Millie Pearce riding Sprite (Wellow)
Class 2 Grade 2 Intro Test (2017) – unled
1st Joseph Cordey riding Bella
2nd Laura Barefoot Riding Barney
3rd Ewan Waller riding Spike
4th Martha Littlewood Hillsden (Lyncombe Lodge)
5th Cecilia Kennard riding Barney
6th Luca Cuckson riding Fettle (Lyncombe Lodge)
Huxley Leigh riding Daymo and Toby Cuckson riding Jet (Lyncombe Lodge) both received well deserved 'Well Done' rosettes.
Class 3 Grade 3 Championship Test
1st Emily Rodman riding Jim
2nd Poppy Scriven riding Sparky (Lyncombe Lodge)
3rd Liam Bailey riding Oscar
4th Tom Hart riding Fleur (Lyncombe Lodge)
5th Zoe Heron riding Leaf
6th Claire Hoare riding Bertie
Class 4 Grade 6 Championship Test
1st Alfie Armstrong riding Marge
2nd Sarah Hunnaford riding Stanley (Saxon)
3rd Lizzie Firth riding Leaf
4th Stella Jelly riding Leaf
5th Millie Boult riding Hope
6th George Brindley riding Oscar
Lucy Mae Bush riding Power (Wellow) and James Bunker riding Bertie both received well deserved 'Well Done' rosettes