RDA Dressage Day at Avon Riding Centre on Friday 31st October
What a brilliant time we had – the weather was so warm and sunny that we were able to set up the refreshments outdoors, allowing plenty of space for the riders and their families to relax and enjoy their day.
We had a total of forty competitors booked in to take part in five different Classes from a walk only test on the leading rein to the final Class for our most advanced riders with movements in walk, trot and canter. The riders in this Class got a huge surprise when they realised that their judge was Clive Milkins, who has coached multi Gold Medal winning Paralympic rider Sophie Christiansen throughout her competitive career! Clive was very impressed by the standard and hopes to come to do a coaching session at the Centre early next year.
It was so good to be able to welcome riders from some of the other groups in our RDA Mid West Region, some from Lyncombe Lodge and Wellow as well as riders from Watershed and Tumpy Green who were competing here for the first time!
The atmosphere was excellent and everyone went away with smiles on their faces and rosettes in their hands, feeling a great sense of achievement and increased confidence after their success.
Results:
Class 1
1st Alisha Craigie riding Spike
2nd Alison Bond riding Bertie
3rd Michelle Godbert riding Whitstable Native
Class 2
(seniors)
1st Bobby Challoner riding Barney
2nd Frances Neville riding Marge
3rd Charlotte White riding Bella
(juniors)
1st Emily Rodman riding Dusty
2nd Morgan Rogers riding Dusty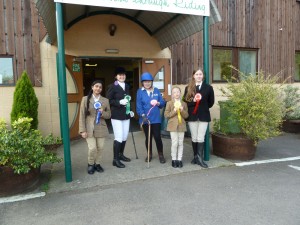 3rd Lucy McLean riding Spike
Class 3

1st Mia Abrahams riding Barney
2nd Neve Massey riding Dusty
3rd Anisah Mahmood riding Dusty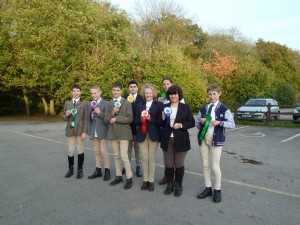 Class 4
1st Verna Clifford riding Barney
2nd Hannah Browton riding Leaf
3rd Josh Murray riding Winston
Class 5
1st Stella Jelly riding Poppy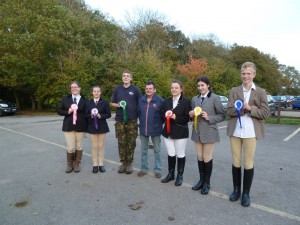 2nd Alfie Armstrong riding Roddy
3rd Millie Boult riding Bella
Well done to you all and we look forward to welcoming you back to our next event on February 21st 2015!