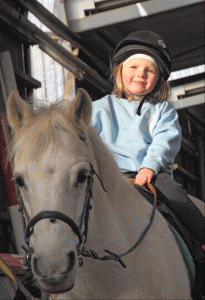 Disabled Riding
Avon Riding Centre (ARC) provides the positive experience and proven therapeutic benefits of horse riding to hundreds of children and adults with a wide range of complex special needs each year. Avon Riding Centre is recognised as a 'Centre of Excellence' for disabled riding regionally and throughout the UK. Each year, the Centre enables over 280 disabled children and adults to benefit from a carefully structured programme of riding sessions – amounting overall to 7,500 rides annually. We work with people living with over 30 different forms of mental and physical special needs. 115 of our regular riders have learning difficulties, 79 have neurological conditions, 22 suffer from sensory disabilities and 25 are diagnosed as being on the autistic spectrum. They range in age from 4 to 78.
Underpinned by sound financial management, boosted by the generosity of individual donors and the support of grant-making trusts, ARC has fulfilled its core mission of improving the lives of disabled children and adults through the provision of therapeutic riding lessons for the past thirty years. In 2011 all of the hard work of the past 30 years was threatened when ARC learned that nearly two-thirds of the 100 acres of open pasture and woodland that it used daily, was to be put up for sale. The loss of the land would have meant the loss of all the achievements of the past three decades and all future ambitions.
Non Disabled Riding
Avon Riding Centre provides lessons for riders age 9 and above. Beginners lessons are limited, most lessons are for riders who can work in trot.  We have an indoor and outdoor school, a full set of show jumps and extensive hacking with some cross country obstacles.  Private and group lessons are available and we have a full size simulator to work on specific areas of improvement.
We welcome enquiries from anyone who would like to know more about our work, so why not contact us or, better still, drop in for a coffee and chat in our café and see for yourself the amazing work that the charity undertakes.
The Avon Riding Centre has a dedicated team of Staff, Trustees and Volunteers. Click here to meet them.
Click here to find out more about the history of the Avon Riding Centre
Click Here for information on Governance and Accounts 
Partnerships:
Avon Riding Centre is pleased to have partnerships with:
Affiliations:
Avon Riding Centre is pleased to have a relationship with each of the following organisations. We are: